Imagine traveling in a Self-Driving car without a driver, in the real world traffic which is a wonderful feeling.  As of now, it is still in the development and testing phases but no doubt to experience these self-driving cars technology in the coming future.
What is a Self-Driving car?:
A driverless car is an autonomous vehicle designed to travel on roads with no human intervention. It is an automated vehicle which is capable of sensing its environment and traveling without any human input. The driverless cars can identify its surroundings using various techniques like GPS, computer vision, radar, Lidar, and Odometry.
Is Apple developing the self-driving car?: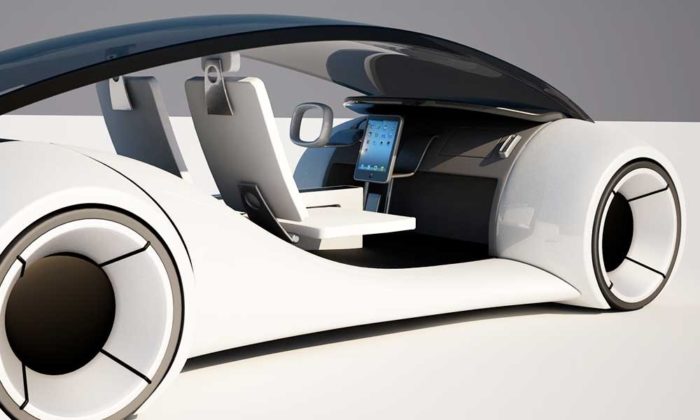 We have Many Apple electronics like PC's, iPod's, watches and iPhones. Apple gained consumer loyalty and market share due to its unique design. So many auto rumors are being popped up for the long time which indicates that Apple is making huge investments in machine learning and autonomous system. A few days ago Apple had been awarded a permit to start testing self driving cars on roads by California motor vehicle department.
It has been rumored that Apple is working on an autonomous car project, code named "Titan". Rumors also suggest that significant numbers of employees from Apple are working on this self-driving project. Reports indicate that Steve was the project in-charge till last year February and now Apple hired Johann, chief executive of Merecedes-Benz as one transmission engineer of this autonomous car project.
The Wall Street Journal's sources, suggest that Apple recruited hundreds of employees who are specialists in battery technology and autonomous systems. As fueling to these rumors Apple received green signal from California motor vehicle division to test self-driving cars on California roads, This permit allows to test drive in 3 vehicles, 2015 Lexus RX 450h hybrid SUV's with six drivers. According to the California law, people should be present in the Self Driving car so that they can take control if something goes wrong.
Apple believes that driverless car will prevent the number of accidents occurred by the human error and also decrease environmental pollution.  Apple will soon begin to test self driving car on roads of California.
Also Read: Apple iPhone 8 may include awesome augmented reality features
How does Google self-driving car works?:
Google's main mission is to assemble the entire globe's information and make it useful every user and universally accessible. Google is working on self driving cars for so many years.
In this Google self-driving cars technology, Google Maps will be integrated with hardware sensors and artificial intelligence software. Here Google Maps is the main component which provides information about the roads, parallel to those hardware sensors will show the real-time environment conditions to the car. At the same time, artificial intelligence of the system helps the car to take real-time decisions. Lidar, video camera, position estimator, and distance sensor are the hardware sensors used in this technology.
Lidar is Light Detection and Ranging, which can measure the distance to a vehicle or other properties of a target by throwing light on it. It is optical remote sensing technology. The video camera is used to detect the upcoming traffic signal modes. Distance sensor is placed on the wheel of the car which allows the car to see the upcoming obstacles and notice the nearby vehicles.
Position estimator is a wheel encoder that helps one to know the vehicle's location and help in tracking the vehicle movements. The data recorded by hardware sensors and the Google Map are passed to artificial intelligence. Based on this information it decides when to slow down and how to accelerate.
Google self driving car have passed 700,000 miles of wonderful accident-free autonomous driving on California and Nevada roads.
Apple vs Google self driving car:
Google is working on its self-driving cars from years and also it clearly shows how this autonomous car works.  Apple has not yet confirmed its project self-driving cars and rumors suggest that Apple has set campus in a secret area near to company's main One Infinite Loop campus in Cupertino.  Already Google has experience in mapping the routes from a long time.  Apple gained consumer loyalty with unique design in its products.
We need to wait and watch either Google is going to win the market with its self-driving car or Apple is going to revolutionize the automobile industry with its innovative technology.