Dear readers,
Thanks for encouraging me so far. I became a writer by accident. I went to a restaurant with my colleagues recently, and one of the guys in the restaurant was trying to greet me, I thought he is looking at a beautiful girl behind me. However, he approached me and said I read every article of yours. Every article inspired me to turn as an entrepreneur. What else as a writer need more than this. I was so happy, we had a hug and left the place. I wish he should get success as an entrepreneur so I can publish an article about him.
How did the accident happen:
Well, for some reason I love to be a successful entrepreneur from childhood, seriously I don't know why that is in my blood. After being an employee more than a decade, I realized it is not my cup of tea. Gradually started ignoring my employment and one fine day I quit. I had begun my first venture with a lot of dreams. Unfortunately, I failed in my first startup like the majority of the entrepreneurs do. It took a week for me to digest and back to normal.
I thought to share my knowledge and experience. I had started a blog and wrote my first article on 'online food order' exactly a year ago. The journey started here.
Why did I choose writing:
Everyone should know what they are. Fortunately, I know what I am, and I know my strength. As I said in my early articles, every person is a frog in their well. This point bothers me, the essential reason to turn as a writer is: I wanted to let the world know my strength.
Well, please don't ask me, did the world know your strength now? Ha..ha 🙂 My honest answer is: Not the whole world but my little world (Where I go, Whom I meet) knew what I am. Indeed, my little world is getting expanded day by day because of my articles.
The pen is powerful than a sword:
We usually hear pen is powerful than the sword. I believe in that, and now I agree with my practical experience. Let me tell you the reason why the pen is so powerful than a sword. A pen can provoke your thoughts, but a sword can prove your angriness. Indeed, you don't need a sword either if a pen provokes your angriness  🙂 I think I should stop this topic here.
What did I achieve:
A lot of confidence, few followers, Recognition, satisfaction, little self-branding and the good amount of internet presence. Apparently, I got good chance to establish my hidden talent. It became a platform for me to share my knowledge. Eventually, I succeeded to let my world know about me.
My experience:
To my knowledge, a writer is the combination of his Character + Experience + Knowledge + Imagination + Intelligence + State of mind.
Writer has to think a lot to
Articulate and put it in an understandable way to readers.
Deliver a valuable and informative content. Otherwise, who cares about it?
Writing is an addiction and put you in a lonely world. Consequently, my dear writers balance your life, don't be in the lonely world for a long time.
Writing fresh content:
Writing new content is a challenge, it is not that easy to think numerous ways to present new topic all the time. After writing 5 articles, I thought my knowledge is over: gradually I realized that it's not the problem with my knowledge it is a problem with the pond I was in. Started picking up topics from the people who asks questions about Startups and Entrepreneurs.
As a joke writer:
The majority of the people who knows me think that I am a serious person. However, very few people can understand the real humor behind it. I never thought that I could write jokes which really feels you laugh, but it is happening  🙂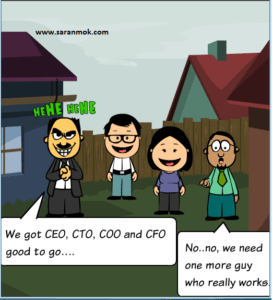 My goal as a writer:
To my knowledge, there is no proof that a writer is in the Forbes list of top 100 billionaires. However, the writer can stay in people's heart. Writing became a hobby to me so I would like to continue it. I have other businesses to focus on to achieve my goal at this point.
I believe in startups because corporate has many limitations to execute a business model as it is. Dear readers associate with a startup and contribute your little efforts to make them succeed. If we don't encourage startups and entrepreneurship sooner or later, the whole world is going to be controlled by few corporate companies.
More than 95% of the people will become employees in few companies. You know? We are already in the transformation stage to get into the hand of few companies who can rule the world.
I am planning to build Saranmok with a right business model to support startup ecosystem across the globe as soon as possible.
Thanks for your encouragement so far,
Narasimha Mohan (NM).